Catnapper Wembley Power Headrest Lay Flat Recliner in Chocolate CODE:UNIV10 for 10% Off
Special Price
$1,411.70
Regular Price
$2,057.00
Features
Dimensions:

44" H x 50" W x 43" D
Wembley Collection by Catnapper Furniture
Chocolate finish
Thick and supple Italian leather
Power recline/power headrest option with comfort control panel
Lay flat reclining
Decorative luggage stitching
Comfort coil seating featuring comfor-gel
Also available in Steel and Walnut
Product Details
| | |
| --- | --- |
| Item Number | 645807/1283-9/3083-9 |
| Weight | 168.00 (LB) |
| Color/Finish | Other |
| Type | Recliner |
| Brand | Catnapper |
| Material | Upholstery |
| Collection Style | Contemporary, Traditional |
| Dimensions | 44" H x 50" W x 43" D |

They believe that Every Body should have a comfortable seating experience. Leaning on their heritage of over 75 years, they have ALWAYS focused on the best manufacturing techniques and designs to provide every consumer a product they can afford and be proud of. They make products for the young, the old, the small, the large, the classical, the urban contemporary, and so on. they love what they do and believe in challenging themselves to keep making the BEST SEAT IN THE HOUSE with the most exciting designs and colors found from all over the World.
About This Collection
This power recliner features the perfect combination of casual style and comfortable construction. Lay back in this chair at the end of a long day and enjoy some time for relaxation.
Reviews
Catnapper Wembley Power Headrest Lay Flat Recliner in Chocolate CODE:UNIV10 for 10% Off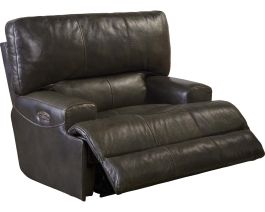 We're currently collecting product reviews for this item. In the meantime, here are some reviews from our past customers sharing their overall shopping experience.
Easy to order. Excellent customer service for ordering online. Answered all my questions.

Lillian H

Jan 28, 2022

The price in combination with the simple yet ornate appearance.

Fermin B

Feb 26, 2022

I really like how it looks and it was a smokin deal

Scott E

Feb 7, 2022

Hoping that delivery and set up is as good as the buying...

Dennis S

Jan 8 2022

Very smooth and great deals!

Alyssa - CT, United States

25 Apr 2022

Easy with decent prices

Frank D

1 Apr 2022