Emma Mason Signature Maxinne Sofa Table in Rustic Gray
Special Price
$929.99
Regular Price
$1,859.99
Features
Dimensions:

28" H x 50" W x 20" D
Maxinne Collection by Emma Mason Signature
Rustic Gray finish
Reclaimed wood plank construction
Hand-worked metal frame
One bottom shelf
Dining styles are available
Product Details
| | |
| --- | --- |
| Item Number | WL-0626 |
| Weight | 69.00 (LB) |
| Color/Finish | Gray |
| Type | Sofa Table |
| Brand | Emma Mason Signature |
| Material | Wood |
| Collection Style | Rustic |
| Dimensions | 28" H x 50" W x 20" D |

We're furniture people, through and through, with over 20 years in the industry and invaluable connections. We're more than a retailer: we also sell wholesale to other furniture stores. What's that mean for you? Exclusive low prices, a vast selection of the top brands, and a trained eye for fine furniture. You know that middleman? Forget him. Consider us your one-way ticket to warehouse prices. We know how important the right piece is to your home, happiness, and well-being; that's why we're constantly adding to our catalogue and negotiating new agreements with more manufacturers. Based in New York, we started from our brick-and-mortar store in the city that's still operating. We also partner with distribution warehouses in most states, allowing us to deliver almost everywhere in the US.
About This Collection
Emma Mason Signature Maxinne Sofa Table in Rustic Gray
Industrial construction inspired by vintage workbench design.
Drawing inspiration from vintage workbenches, the Maxinne sofa table is constructed of reclaimed wood planks and hand-worked metal frames. Exposed bolt heads underscore the aged, oiled finish that resembles an industrial steel framework. Whether placed behind a sofa or against a well, this table adds character and personality to any room.
Reviews
Emma Mason Signature Maxinne Sofa Table in Rustic Gray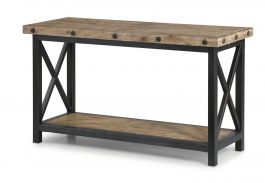 We're currently collecting product reviews for this item. In the meantime, here are some reviews from our past customers sharing their overall shopping experience.
Easy to order. Excellent customer service for ordering online. Answered all my questions.

Lillian H

Jan 28, 2022

The price in combination with the simple yet ornate appearance.

Fermin B

Feb 26, 2022

I really like how it looks and it was a smokin deal

Scott E

Feb 7, 2022

Hoping that delivery and set up is as good as the buying...

Dennis S

Jan 8 2022

Very smooth and great deals!

Alyssa - CT, United States

25 Apr 2022

Easy with decent prices

Frank D

1 Apr 2022